Blog post
edited by
Matt Tricomi
From the The Planning Institute methodology overview and the overall web site, the new 2012 Collaborative Planning Methodology (CPM) is the replacement for the 2008 FSAM method which is primarily sourced from the 2006 MBT method. You can see how those methods were originally developed at Developing a Transformation Approach. This method was incorporated into the updated FEA Common Guidance in May of 2012.  CPM's has two primary groundings: (1) The EA Cube which Dr. Scott Bernard has been leading development with his first publication in 2004 and taking the management workflow principles of FSAM.
Xentity has blogged on the history of FSAM 2008-2012 which was begat by MBT 2005-2007 at the Department of the Interior which was begat by TAA at the Bureau of Land Management in 2002-2003. All three leverage best practices from methods, approaches, frameworks, maturity models, etc to allow problem reduction from Enterprise Planning to incorporate business focus area tactical segment improvements that can be done within current budget and future budgets. For instance, MBT work products were mapped to supported variuos architecture frameworks (FEAF, DODAF, TOGAF, C4ISR) and FSAM mapped into various other IT Portfolio planning (CPIC, A&A, Privacy). MBT also was build with the premise of linking segment architecture to the IT Investment Maturity Framework. It will be interesting to see where CPM gets mapped into to bring in larger communities – PMP? Smart Lean Government?  It is nice to see the progression back towards open-source methods. As the blog notes:
No one in our industry wants to be on the front page of the Washington Post! There are many approaches to planning … many that result in the dreaded analysis paralysis.  When we do take the time to plan, why does it sometimes not result in better performance?  I believe the critical element to planning is collaboration.  Ultimately, we have to realize that in most mission and business areas, there are a lot of people who have a lot of opinions.  There is never a single individual who is always right, always wrong, or all knowledgeable about any given topic.  Why do people come from so many different perspectives?  Well, all of these people have different experiences, different responsibilities, and different levels of creativity and ambition.  The bottom line:  working hard to get the best out of these individuals is key to gaining consensus, and ultimately delivering a better plan and a better product.
What has carried on in CPM from FSAM and MBT?
What is very cool to see is the DOI, PhaseOne, and Xentity teams original concepts of governance gates between major decision points/steps, step at-a-glance view, work product based methods. This pattern still is critical to assure a solid foundation is laid.
Looking back when we originally introduces this 1-page concept to a method during the methodology creation production workshops in DC and Denver, its amazing to see it stand as a key information reduction graphic even since MBT 1.0. Overall, it also gives a sense of comparing the maturing style of the planning as disruptions move SO MUCH faster in just ten years. CPM is still broken down the same way as MBT and FSAM even with the complexity burden pie chart. The 5 major steps map remain in intact – with re-branded names – the tenets of Define and Prioritize Area, Get sponsors and alignment, analyze and approve definition, invest, and perform/monitor.
For example, the Step 4 from all 3 are similar in "Definition", yet the level of definition changed the audience from Implementer Guidance to Portfolio Manager to Investment Sponsor. See:
CPM Step 3.3 (2014): Step Title: Define and Plan
FSAM Step 3 (2008): Step Title: Define Business and Information Requirements
MBT Step 3 (2005-2007): Step Title: Analyze the Business and Define the Target Business Environment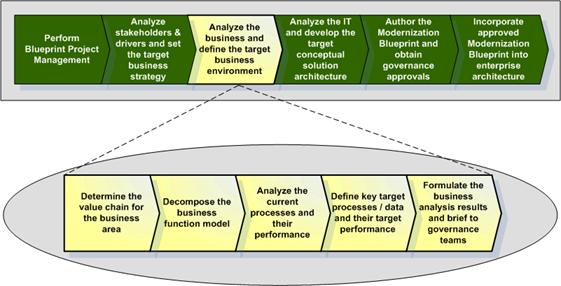 Lots of similarities, but one can see the appropriate gravitational move less from system architecting to portfolio designing to roadmapping.
Why something new if Segment methods so great? Paralysis Analysis is exactly what happened
A Variance is in MBT Phase 4. That was always a challenge and MBT's by far weakest value-add. How much direction to provide the investment control phase. So much so, FSAM wiped it out. CPM appears to have brought back both Phase 4 and 5, but with the appropriate level of portfolio oversight context. Yet, in bringing it back, the concept of tracking both Fiscal Year tactical in-budget items and Future year budget requests were lost. Turning back to the positive the shift of Step 4 back in, but shifting audience to the portfolio manager appears to be the right choice to allow focus on investment objective monitoring, and not hamstring implementation teams with already enough guidance on lifecycle compliance methods.
FSAM did stumble to be unwieldy when presented and usually implemented incorrectly as too waterfall to assure all linked Federal compliance gates were hit in a serial fashion (CPIC, PIA, Security). While that is critical, MBT and FSAM were intended to me more an approach menu than a prescripted menu of thou shalt steps. This comes back to very early discussions in 2005 on the naming and use of the term "Methodology" – does the term infer prescription or direction or suggestion. It appears to been the former, and many FSAM and even many MBT implementations interpreted to must do all steps versus execute in the Step 1 selection of must-have activities.
Only a few groups like CDC and USGS (latter with Xentity) developed an Agile or adapted version of FSAM to do the products needed and required at the right time.  MBT had a similar curse. It could take 6-9 months to get to a 3-5 year plan, which is hard to fathom now. Now the DOI Geospatial Modernization Blueprint still is being implemented and still is relevant as the tact there was more like the CPM intent – the business and data investment issues are as relevant today as when the Geospatial blueprint started on MBT 1.0. Yet, even the cited Geospatial blueprint, while in completion, its tenets stand and rarely challenged, the support and sponsorship for implementation have mostly retired or changed positions, so the soft science side of transformation was sorely missed in MBT in this situation.
Some approaches to avoid the long paths were tactical solution analysis paths as ways to target specific pain points, and only focus on the needed analysis tasks. In working with Interior, Xentity helped capture these as Transformation Lab Services to get more agile shorter, more tactical wins in change.
While Xentity believes the Segment Architecture is the usual go-to approach for moving towards shared services transformation, blending with the Lab Services or Solution Analysis type engagements have been found to be more successful. Train on the toolkit, but use the tools needed for a smaller set of scope that can been showcased in a Fiscal Year timeframe to assure sponsorship remains engaged.
For more reading: To save some clicks, here are some excerpts from the Planning Institute site
THE COLLABORATIVE PLANNING METHODOLOGY (CPM)

Planning is done to effect change in support of an organization's Strategic Plan, and the many types of planners (e.g. architects, organization and program managers, strategic planners, capital planners, and other planners) must work together to develop an integrated, actionable plan to implement that change.  Planning should be used to determine the exact changes that are needed to implement an organization's Strategic Plan, enable consistent decision-making, and provide measurable benefits to the organization.  In short, an organization's Strategic Plan should be executed by well-rounded planning that results in purposeful projects with measurable benefits.

In today's environment, which demands more efficient government through the reuse of solutions and services, organizations need actionable, consistent, and rigorous plans to implement Strategic Plans and solve priority needs.  These integrated plans should support efforts to leverage other Federal, state, local, tribal, and international experiences and results as a means of reusing rather than inventing from scratch.  Plans should be consistent and rigorous descriptions of the structure of the organization or enterprise, how IT resources will be efficiently used, and how the use of assets such as IT will ultimately achieve stated strategies and needs.

The role of planners is to help facilitate and support a common understanding of needs based on the organization's Strategic Plan, help formulate recommendations to meet those needs, and facilitate the development of a plan of action that is grounded in an integrated view of not just technology planning, but the full spectrum of planning disciplines to include, but not limited to, mission/business, IT resources, capital, security, infrastructure, human capital, performance, and records planning.

Planners provide facilitation and integration to enable this collaborative planning discipline, and work with specialists and subject matter experts from these planning groups in order to formulate a plan of action that not only meets needs but is also implementable within financial, political, and organizational constraints.  In addition, planners have an important role to play in the investment, implementation, and performance measurement activities and decisions that result from this integrated planning process. 

The Collaborative Planning Methodology, shown in Figure 1, is a simple, repeatable process that consists of integrated, multi-disciplinary analysis that results in recommendations formed in collaboration with sponsors, stakeholders, planners, and implementers.  This methodology includes the master steps and detailed guidance for planners to use throughout the planning process.  Architecture is but one planning discipline included in this methodology.  Over time the methods and approaches of other planning disciplines will continue to be interwoven into this common methodology to provide a single, collaborative approach for organizations to use.

The Collaborative Planning Methodology is the next generation replacement for the Federal Segment Architecture Methodology (FSAM).  As the replacement for the FSAM, the Collaborative Planning Methodology has been designed to be more flexible, more widely applicable, and more inclusive of the larger set of planning disciplines.

The Collaborative Planning Methodology is intended as a full planning and implementation lifecycle for use at all levels of scope defined in the Common Approach to Federal Enterprise Architecture: International, National, Federal, Sector, Agency, Segment, System, and Application.

The Collaborative Planning Methodology consists of two phases: (1) Organize and Plan and (2)Implement and Measure.  Although the phases are shown as sequential, in fact there are frequent and important iterations within and between the phases.  In the first phase, planners serve a key role facilitating the collaboration between sponsors and various stakeholders to clearly identify and prioritize needs, research other organizations facing similar needs, and formulate the plans to address the stated needs.  In the second phase, planners shift into a participatory role, supporting other key personnel working to implement and monitor change related activities.  As part of the second phase of the methodology, planners specifically support investment, procurement, implementation, and performance measurement actions and decisions.

The Collaborative Planning Methodology is stakeholder-centered with a focus on understanding and validating needs from sponsor and stakeholder perspectives, planning for those needs, and ensuring that what is planned ultimately results in the intended outcomes (Step 1).  Additionally, this methodology is structured to embrace the principles of leverage and reuse by assisting planners in determining whether there are other organizations that have previously addressed similar needs, and whether their business model, experiences, and work products can be leveraged to expedite improvement (Step 2).

Ultimately, the Collaborative Planning Methodology helps planners work with sponsors and stakeholders to clearly articulate a roadmap that defines needs, what will be done to address those needs, when actions will be taken, how much it will cost, what benefits will be achieved, when those benefits will be achieved, and how those benefits will be measured (Step 3).  The methodology also helps planners support sponsors and stakeholders as they make decisions regarding which courses of action are appropriate for the mission, including specific investment and implementation decisions (Step 4).  Finally and perhaps most importantly, the methodology provides planners with guidance in their support of measuring the actual performance changes that have resulted from the recommendations, and in turn, using these results in future planning activities (Step 5).

For more information please see the other CPM pages as well as the Downloads Page where detailed guidance documents are available.